This weekend we are releasing Version 2.9. Let's get into it!
Add a Model
One of the most requested features we've been asked for over the past few years is the ability to add a model without having to rescan your original document. Before v2.9 we had enabled this functionality for spec packages created from the search page, and now we're enabling it for all spec packages. From the spec package edit page:
Model numbers that are added in this manner can only be removed from the package by using the "Remove models" button.
You cannot add a brand new model number that is not already in the database using this function.
We strongly suggest you use this function sparingly, as your original document should continue to be treated as the master document that defines your order. Also note that this feature can be enabled or disabled for your entire company.
Images and Additional Resources
We've been working directly with manufacturers to acquire images and additional resources (such as energy guides, manuals, CAD files, etc.). We now display these items on the spec package public hub page when they are available for a given model: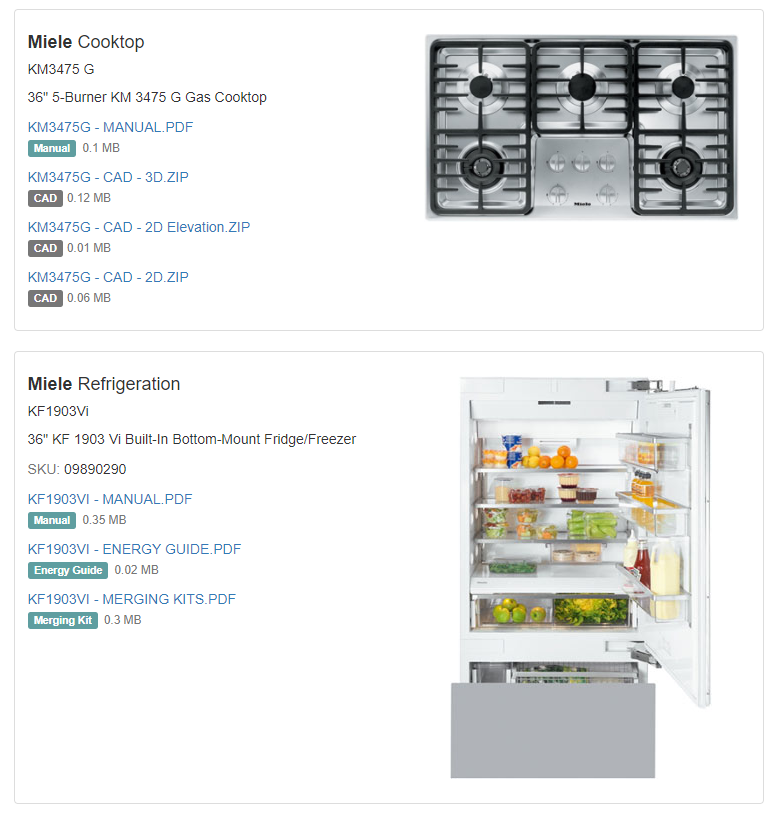 You can view which resources are attached to your package by visiting the spec package hub page. Resources lock in whenever you rescan/refresh your spec package and increase its version number.
We are actively to working with more manufacturers to get more images and resources loaded into the database, so please bear with us as we get this feature off the ground.
Coming up in v2.10
We'll have one more major release before the end of this year… Stay tuned!
If you have any questions please contact us at help@steelcod.com.
Be well!
— Tom